Citriodiol®
Citriodiol® is a naturally sourced active ingredient based on Eucalyptus Citriodora oil manufactured in an environmental friendly and sustainable manner. Suitable for children from 3 months old. Available from 20% to 30% in spray, emulsion and roller.

Naturally sourced insect repellent derived from the oil of the Eucalyptus citriodora tree (Eucalyptus Citriodora Oil, hydrated, cyclized, CAS 1245629-80-4).
 Sustainable and ethically sourced.
 Up to 6 hours protection against biting insects (mosquitos), nuisance insects (midges) and ticks.
 Suitable for long-haul destinations and European territories.
 Suitable for children from the age of 3 months.
Unlike other essential oil-based repellents, Citriodiol® has passed the most rigorous safety and efficacy tests.
 4-year shelf life after production.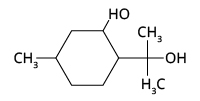 Anti-Insect Citriodiol® 30%
For children from 3 months and older and adults.
Up to 6 hours protection against mosquitoes and ticks.