Saltidin®
Saltidin®, also know as Icaridin, Picaridin or KBR 3023. Saltidin® is an effective yet mild insect repellent recommended by the WHO. It has a refreshing scent and is suitable to use on sensitive skin. Available in 20% spray.

Strong insect repellent synthetic based (1-piperidinecarboxylic acid 2- (2-hydroxyethyl)-1-methylpropylester, CAS no. 119515-38-7).
 Effective against mosquitos, flies, ticks, midges, ants, cockroaches.
 Suitable for European territories and long-haul destinations.
 Suitable for children from the age of 2 years.
 No solvent effect on plastics.
 Broad spectrum.
 3 years shelf life.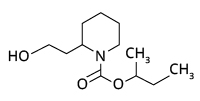 Saltidin® 20%
For children from 2 years and adults.
Up to 8 hours protection against mosquitoes, up to 5 hours against biting flies and up to 4 hours protection against ticks.